Hello there! In here, I am going to tell you about the awkward moments I had in my life. I can't just keep them to myself, can I?
My friend came over to my house, so we were chatting -- he mostly talked about new video games and TV shows, while I talked about my poems, he didn't seem too interested in them. Well, I didn't know that he invited my crush in my house either, so, when she came in  I looked at my friend, and he was like: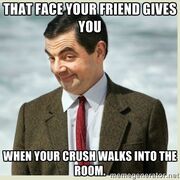 And I was like: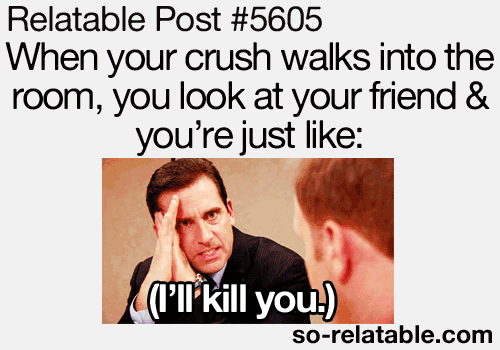 And so, I tried avoiding my friend, not to cause any other emberrasing moments.
Once, I was sitting at the table, looking at the candle and thinking how good it must taste. I didn't notice that I actually said "It looks so tasty." and my brother started laughing. I got annoyed and tried ignoring him, but his loud laughing ripped me into little pieces. So, in order to proove him wrong, that the candle WAS tasty, I reached for it and put it in my mouth. That seemed to make my bro stop laughing, he looked quite surprised. But, the moment I tasted the candle, I spit it out and started gasping for air, thinking it might stop the horrible taste. And because of my stupidity, my brother started laughing even more. From now on, I never take candles seriously again.
It was a nice summer night, a little bit breezy, but still hot. I felt like I was dieing from the heat, when my brother came into my room. He turned on the lights and said "Mom and dad aren't here. Lets go have a drink." I was surprised and tried to protest, but my bro interrupted me and said "The drink will cool you off, dude. Stop gaping your mouth like a fish." Well, I believed him and followed him. Guess what the drink was?
...
...
It was alcohol....
...
...
And at first we were like:
But then the fun was gone...
...
...
My parents came in, everything was distroyed by us...
...
...
And my bro was like: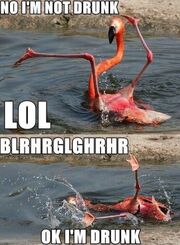 ...
...
While I was like: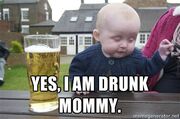 ...
...
And so we got in BIG BIG trouble....
I think there will be no end to my stupidity...
Never...
And so:
Ad blocker interference detected!
Wikia is a free-to-use site that makes money from advertising. We have a modified experience for viewers using ad blockers

Wikia is not accessible if you've made further modifications. Remove the custom ad blocker rule(s) and the page will load as expected.