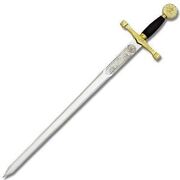 &nbsp
Destinyswords are just swords but they enhance the strength and fighting stats/abilities of its chosen wielder. It also allows them to use a powerful attack when they have taken considerable damage or when they are in Last Stand. The powerful attacks are risky as they sap a lot of energy out of the person. Each destinysword choses its wielder, is unique, and has it's own element (E.G. fire, water, light, darkness, etc) which will affect the wielder's enhanced fighting stats/abilities (E.G. Fire enhancing the wielder's attack stats mostly, while increasing or decreasing stats like defence). Destinyswords have their names inscripted onto one side of the blade. They are summoned and are normal swords until their name(s) is/are said by the wielder. Only the wielder can read the language (Note from the author: I am pretty lazy because I don't want to make my own language so the language of the words is Japanese, which doesn't exist in the story except as the inscripted language.) the name is inscribed in.
Known Destinyswords
Edit
Anzai's Destinysword
[[

|250px]]
Anzai's Destinysword

Element

Light

Attack

800/1000 (1000 being the strongest)

Defence

800/1000

Magic-Casting

800/1000

Description of powerful move

Once activated, the Destinyblade will glow in a golden light and time will slow down though the wielder is still in "normal time". Every slash, stab or attack is 5x stronger than normal.

Wielder

Anzai

Name

Hero's Blade
Ad blocker interference detected!
Wikia is a free-to-use site that makes money from advertising. We have a modified experience for viewers using ad blockers

Wikia is not accessible if you've made further modifications. Remove the custom ad blocker rule(s) and the page will load as expected.