Ericka Rinheart is Keegan's 10 year old step-sister. Later in the story, she is revealed to be a life witch.
Personality
Edit
Ericka is sweet, caring, and a bit loud. She usually over reacts to small details and can be a little annoying at times.
Appearance
Edit
Ericka has long, curly blonde hair and bright green eyes. Later in the story, she has small, pointy ears.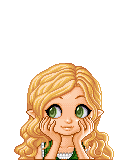 Ad blocker interference detected!
Wikia is a free-to-use site that makes money from advertising. We have a modified experience for viewers using ad blockers

Wikia is not accessible if you've made further modifications. Remove the custom ad blocker rule(s) and the page will load as expected.