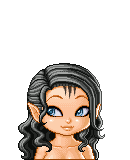 Fra is the main character in Grath. She was born on the night where Hoav appeared in the sky, so she possessed red fire defense mechanism.
She was 15 in human age when the story started.
Appearance
Edit
Fra is pale, and she has dark gray hair and a faint blush on her cheeks. She has light blue eyes and a birthmark on her forehead, just like every other Horsak. She also has elfish ears. She usually wears a short blue hunting dress because she can hunt and run easily in it.
Personality
Edit
Fra is kind and loyal. She worries about everything and is clumsy.
Ad blocker interference detected!
Wikia is a free-to-use site that makes money from advertising. We have a modified experience for viewers using ad blockers

Wikia is not accessible if you've made further modifications. Remove the custom ad blocker rule(s) and the page will load as expected.