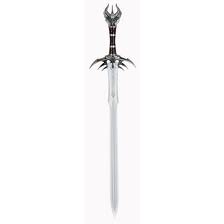 Helthrir's info

Age:

40 Years Old

Race:

Man

Current position:

Former King of Ancarius and former Guardian of Earth

Ruler of:

Ancarius

Birth:

December 31st of the Year 2467 of the First Age

Death:

December 25th of the Year 2507 of the First Age
Helthrir
was born as the son of a knight. At the early age of 5, he was trained to figh. When he came of age at the age of 20, he became a soldier. Throughout many battles, he served long and hard, eventually gaining the title of Captain and a Guard of the Golden Hall. After Gerethius died and named Helthrir his heir. Helthrir set to work to stop Sarolax and his regime. He drove a merciless war against Sarolax and eventually besieged the mighty fortress of Sarolax himself. He travelled all the way to the throne room where he engaged in battle with Sarolax. He finished off Sarolax, but died when Sarolax grabbed him and electrocuted him with dark energy. His heir was his only son, Sentalius.
Ad blocker interference detected!
Wikia is a free-to-use site that makes money from advertising. We have a modified experience for viewers using ad blockers

Wikia is not accessible if you've made further modifications. Remove the custom ad blocker rule(s) and the page will load as expected.