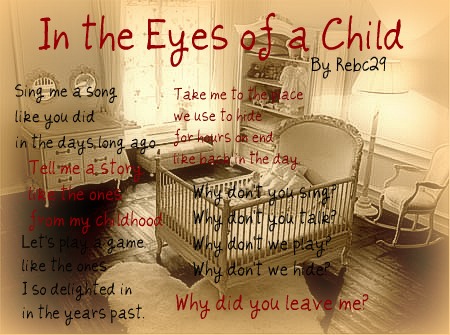 In the Eyes of a Child
Sing me a song
like you did
in the days long ago.
Tell me a story,
like the ones
from my childhood.
Let's play a game,
like the ones
I so delighted in
in the years past.
Take me to the place
we use to hide
for hours on end
like back in the day.
Why don't you sing?
Why don't you talk?
Why don't we play?
Why don't we hide?
Why did you leave me?
Ad blocker interference detected!
Wikia is a free-to-use site that makes money from advertising. We have a modified experience for viewers using ad blockers

Wikia is not accessible if you've made further modifications. Remove the custom ad blocker rule(s) and the page will load as expected.