Lucia Belladonna Darkwood
px

Title
Witch
Victor di Morti's Assistant
Vital Statistics
Date of Birth
December 28th, 1712
Current age
170
Gender
Female
Family
Belladonna O'Trapaca (Mother)

Guille Ramo (Father)

Roman Dolos (Half-Brother)

Status
Immortal
Eye Color
Blue
Hair Color
Blonde
Height
5' 10"
Alias
Lucy, Bella, Black Cat, Lucia Ramos, Lucia O'Trapaca
Other
Affiliation
The Gypsies of Eastern Ireland

The Three Rings (Thieves Guild)

Victor Di Morte

Weapons
Magic

Knives

Species
Wiccan / Thief
Home
Irish Forests

London, England

Appearances
Dead Ends
Lucia was born in an Irish gypsy camp. Her biological father was an English nobleman who had fallen under the spell of Lucia's mother's tricks. She was born with the natural talent of magic. She would make things disappear, cause fires to start and cause other strange things.
WIP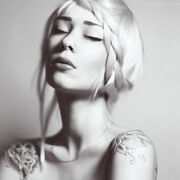 Ad blocker interference detected!
Wikia is a free-to-use site that makes money from advertising. We have a modified experience for viewers using ad blockers

Wikia is not accessible if you've made further modifications. Remove the custom ad blocker rule(s) and the page will load as expected.