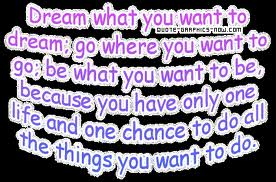 Dream
A dream
is a place
where thoughts
are mixed and seperated
destroyed and created
where no one can see it
not your brother
or sister
or mom
or dad
or grandparents
or pet
or cousins
or even your best friend
unless
you
speak
it
from
your
mind
and
soul.
But
no
one
can
force
you.
So be happy that
not only can you
store in your mind and heart
but in your dreams as well.
Ad blocker interference detected!
Wikia is a free-to-use site that makes money from advertising. We have a modified experience for viewers using ad blockers

Wikia is not accessible if you've made further modifications. Remove the custom ad blocker rule(s) and the page will load as expected.