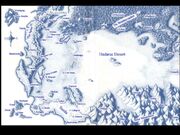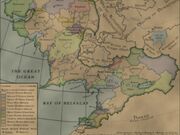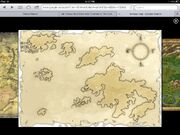 This is an idea for a collab story I have. Essentially, Galbatorix of Inheritance cycle fame isn't satisfied with being dark lord of Alagaësia, and so he decides to use his magical powers to create portals to Middle-earth, also known as Midgard (Lord of the Rings), Tir na Nog (as in my story All Things Must Burn And Crumble…) and perhaps even the real world. This collab will wait until Karikamiya has finished her contest (so as not to steal any thunder from her sails), I have completed reading both Brisingr and Inheritance and I expand my Tir na Nog universe.
Now, the Creativity Unleashed Wiki is not here for fanfiction, so if you want to contribute, you can add references to Lord of the Rings and the Inheritance cycle, but please don't add any canonically established characters from either universe - make up your own. And feel free to add your own universes if you want, such as Diakatan, Incendarment, BachLynn's setting for her unicorn story, etc.
If you would like to contribute, comment below or contact me at my message wall. I'll add rules, timeline, setting and other necessities when I know more about Alagaësia and Tir na Nog. Thanks.
Ad blocker interference detected!
Wikia is a free-to-use site that makes money from advertising. We have a modified experience for viewers using ad blockers

Wikia is not accessible if you've made further modifications. Remove the custom ad blocker rule(s) and the page will load as expected.