Key info

Birth (Year)

1916

Position in Wehrmact

Sniper

Rank

Captain

Current Age

26

Eye Colour

Blue

Hair Colour

Brown

Personality

Calm, easy to anger

Nationality

German (Originally Russian)

Allegiance

Nazi Germany

Background Information

Was left behind in village by father in 1940, when the Germans invaded. He is older brother to Dmitri Pavlov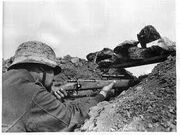 Walter Lichte is the one of the main characters in the story, The Hunt: The story of two soldiers during WW2 and is brother to Dmitri Pavlov. He fought on the side of the Wehrmact, the German army, during The Battle of Stalingrad as a sniper.
Ad blocker interference detected!
Wikia is a free-to-use site that makes money from advertising. We have a modified experience for viewers using ad blockers

Wikia is not accessible if you've made further modifications. Remove the custom ad blocker rule(s) and the page will load as expected.